THE CAMPAIGN FOR THE UNIVERSITY OF SASKATCHEWAN
WITH YOUR SUPPORT,


USASK NURSES WILL CHANGE OUR WORLD

The world needs YOU. With your help, the College of Nursing will continue to be what the world needs.
Gifts made to the Be What the World Needs campaign can fund a variety of initiatives, projects, supports for students and more.
No matter what you are most passionate about, there are no shortage of options to maximize the impact of your gift.
NURSES

 THE WORLD NEEDS

Our world faces increasingly complex issues and we need nurses who can rise to these challenges.
INSPIRE
STUDENTS
TO
SUCCEED
To meet the growing and complex needs of the nursing profession, donors like you can help support students with scholarships, bursaries and enhanced learning opportunities.
Featured Projects:
$185,000 GOAL
Students who build connections with patients, communities, and other health professionals during rural and remote clinical placements are more likely to consider employment opportunities in these settings upon graduation.

There are a number of rural and remote clinical practice opportunities available to all undergraduate nursing students throughout their program, but accessing these placements is often a barrier for students. With your support, travel, food, and accommodation expenses for students will be minimized, increasing accessibility for urban students to do rural and remote placements.

Our hope is if more students complete these clinical placements, more graduates will work in rural and remote communities, helping address the nursing shortage in Saskatchewan.
$350,000 ANNUAL GOAL
Your support of student scholarships are a way to increase recruitment numbers and improve college culture as we recognize the professional burnout being experienced by nurses during and after the pandemic. 

International student funds

International students are at a greater risk of experiencing income-related barriers, including increased levels of food insecurity and housing instability compared to domestic students, which may negatively impact their ability to thrive personally, as well as in their studies and research contributions.

Dedicated support from donors like you for tuition and living expenses would greatly benefit international College of Nursing students in achieving their educational and career goals while addressing local and global health issues. Supporting international students will contribute to the growth of the College of Nursing's global citizenship and international community service.
$50,000 - $300,000 GOAL
Technology enhanced learning (TEL) is fundamental to modern nursing education. With donor support for TEL, students can access comprehensive learning resources through reputable third-party providers that augment the curriculum and support the achievement of the entry level competencies for Registered Nurses.

The exploration of implementing Virtual Reality (VR) is well underway with more details to come in the next year as we prepare to launch a revised undergraduate curriculum in Fall 2024.

Established software resources include:
Self-guided quizzing to test students' knowledge and preparedness for clinical practice in each year of their studies.
On-demand video series for learning and reinforcement of nursing procedures that support hands-on skill development with students in lab and clinical practice.
Immersive VR simulation that takes learning out of the textbook and into a 3D environment from basic anatomy to complex case studies in virtually simulated scenarios improving student confidence and patient safety.
National Council Licensure Examination (NCLEX) Prep Exit Exam and remediation package to build confidence and identify personal remediation plans to increase first time pass rate on the national licensing exam for Registered Nurses.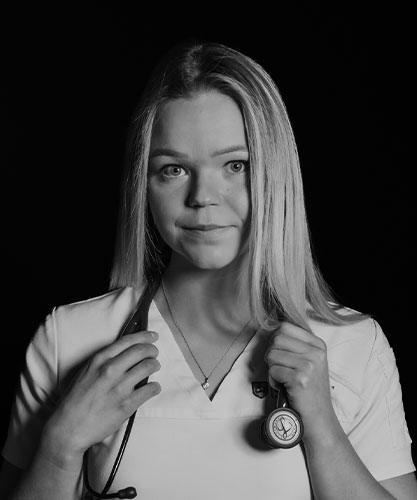 "The world needs nurses. At USask, I am learning how to critically think and identify what type of medical attention that a patient needs. I can use this education to be a catalyst for new and innovative strategies to positively influence the world. Nurses act as advocates, liaisons, and protectors for their patients, the community and the world."
Hannah Lytle

Student, College of Nursing
Support the College of Nursing
All donations make a powerful difference in the lives of our students, researchers and community members.
IMPACT

OF GIVING TO USASK