THE CAMPAIGN FOR THE UNIVERSITY OF SASKATCHEWAN
WITH YOUR SUPPORT,


USASK LEGAL PROFESSIONALS WILL CHANGE OUR WORLD

To continue to keep pace with a changing world and to ensure even more success for our current and future alumni, we invite you to explore our bold vision for the college.
Together, we can continue to help students strive towards their personal goals and be ready to face increasing challenges as they enter the legal profession today.
LEGAL PROFESSIONALS

 
THE WORLD NEEDS

Supporting students to become the strong, resilient, well-rounded, healthy legal professionals that our world needs now, and in the future.
INSPIRE STUDENTS TO
SUCCEED
Building on a history of excellence, students are at the core of our mission. They need both essential legal knowledge and opportunities to put that knowledge into practice. To do this at the level we envision, we need alumni and donors like you. With your support, we can provide the strong foundational learning and career support that our law graduates need to make an impact for years to come.
Featured Projects: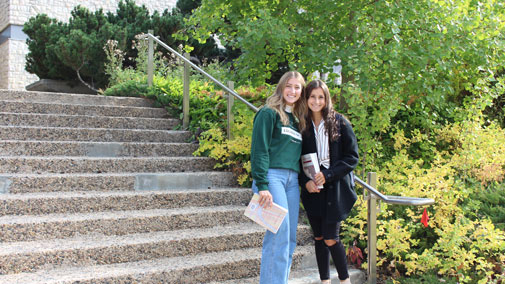 $3.5 MILLION GOAL
The practice of law is increasingly interdisciplinary and requires graduates who are adaptable, innovative, and collaborative. Practical learning experiences, intertwined with knowledge-based learning is crucial to the success of our graduates. These experiences will build and enhance their skills and capacity, preparing them for the complex and ever-changing legal profession. Together, we can build, grow, and sustain the following experiential opportunities for law students over the next five years and beyond. Your support will help:
Expand the number of student internships, exchanges, and fellowships — $750,000
Nurture and grow our intensive courses like the Community Legal Services for Saskatoon Inner City Inc. (CLASSIC) program and the Criminal Intensive Seminar — $1 million
Sustain our competitive mooting opportunities — $750,000
Create cross-disciplinary and inter-professional experiences with other colleges, industry, and organizations — $1 million
The sustainability of our experiential learning opportunities requires robust, ongoing financial support.
With a strong hands-on learning program, students will have the opportunity to hone their practical skills in real-life situations and graduate better equipped to succeed in the legal profession.
$1.5 MILLION GOAL
Healthier law students make better lawyers and a better legal profession. The world today has new challenges that students decades ago never had to face. Rapid change, global conflict, evolving technology, increasing societal challenges and rising personal pressures, like mental health, are all realities that our students contend with while they are learning, and as they enter the workforce.
Personal and professional worlds are more intertwined today than ever before, and it is critical that we support the well-being of our students throughout their studies and into their careers, wherever they go and whatever they do. Your generosity will support the following health and wellness initiatives for the next five years and beyond:
Strengthen existing wellness programs through the addition of educational seminars, programs, and courses with health and mental health professionals. — $500,000
Create personal supports for our students through supporting direct access to health care professionals and self-serve wellness initiatives to help students take care of themselves. — $500,000
Develop career support and skills training to give students the professional skills they need to build resiliency, create strong connections and navigate the stress and mental health challenges of a legal career. — $500,000
The college recognizes the importance of students' overall well-being and wants to play a positive, proactive role in preparing students to deal with the professional and personal pressures they will encounter as lawyers, by instilling a fundamental culture of self-care and wellness as part of their education. We will weave a culture of wellness into all we do.
Together, we can make a difference in the well-being of our future leaders in the legal profession.
$5.5 MILLION GOAL
Increased access to legal education through bursaries and special funding for tuition to substantially reduce the cost of law school for students facing financial barriers.
A legal education remains inaccessible to many, purely due to financial reasons. Currently, more than 200 students in the college are identified as having financial challenges. Together we can change this by ensuring that attending law school depends more on talent than the ability to pay. A student body drawn from a wide variety of backgrounds will bring a more diverse range of experiences and insights into the study and practice of law, and in turn, allow our future legal professionals to make an impact in greater and more diverse ways. Your contribution will ensure the college can:
Increase student financial assistance through more bursaries and student awards that allow students to focus on their studies and will allow us to increase the number of students we can help each year. — $5 million
Create comprehensive tuition coverage for students who could not otherwise afford a legal education. New tuition bursaries will offset the cost of attending law school for students who require significant financial assistance. Our goal is to provide 10 new law students with funding that will cover a majority of tuition costs for the duration of their three-year JD degree. — $500,000
By increasing the number of awards and bursaries we can offer, more students from a range of backgrounds and communities will be able to get an excellent legal education from USask. Together, we can help the next generation of lawyers and legal professionals from all walks of life make an even bigger impact on our community and our world.
SUPPORT

INDIGENOUS ACHIEVEMENT

Work with and for Indigenous communities to enact our firm commitment to mutual learning and reconciliation.
Featured Project: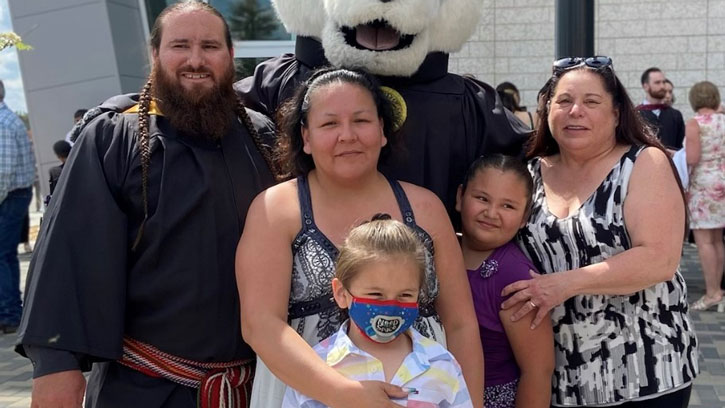 $5 MILLION GOAL
As home to Canada's first, groundbreaking Indigenous Law Centre we have a unique and critically important role to play in Truth and Reconciliation.
The college has a proud history of success in Indigenous legal education, including the historic Indigenous Law Centre Summer Program and the recently completed Nunavut Law Program which celebrated 22 graduates, making it the most successful higher education program in the history of the Nunavut territory. The Nunavut Law Program graduates will fundamentally transform the legal system in the territory and the college will leave a lasting legacy in Canada's North. Together, we can remain a leader in Indigenous legal education.
Your support will:
Elevate learning and career development opportunities for Indigenous law students. Our goal is to expand the Indigenous graduate program, student awards, and access to cultural advisors and guides while enhancing academic, personal, and professional supports and experiences. — $1.5 million
Enhance our program to advance our commitment to kwayeskastasowin (setting things right). We plan to enhance programming, establish opportunities for visiting scholars and increase research capacity to further our commitment in response to the Truth and Reconciliation commission's calls to action. These initiatives will provide all law students with a strong foundation in Indigenous law and reconciliation. — $2 million
Expand reach of Indigenous Law Center through increased research, publications, cultural and community outreach. — $1.5 million
The Indigenous Law Centre has been a national leader in Indigenous legal education and research for fifty years.  The Centre has played a pivotal role in increasing the number of Indigenous lawyers in Canada. Together, this important work will continue, and the Centre can continue its commitment to Truth and Reconciliation.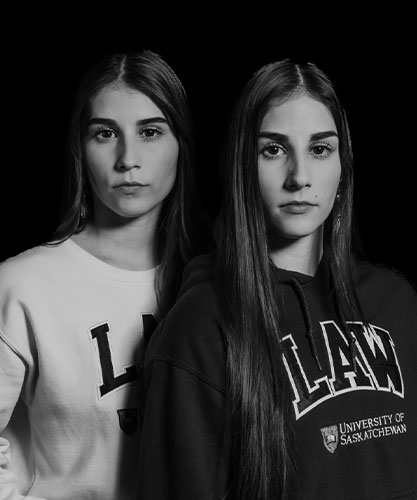 "Being an Indigenous student pursuing studies predominantly in criminal law, I am taking a position-centred approach to my studies and career. In a criminal system that is often intimidating and can betray empathy in the pursuit of efficiency, the world needs advocates who prioritize compassion."
Kennedy Marley (left)
Student, College of Law
 

"I am inspired by the need for more Indigenous voices, education, and representation in the legal system. I strive to advocate for increasing legal education and representation for all Indigenous peoples involved in, and affected by, the law."
Caydence Marley (right)
Student, College of Law
Support the College of Law
With alumni, donors and community partners like you, we will impact our students and our industry, through our campaign priority areas. All donations make a powerful difference in the lives of our students, researchers and community members.
With your donation, we can fund priorities for the College of Law.
If you would like to speak to someone regarding donating, please reach out to:
Stacey Schewaga, Development Officer, College of Law
306-966-5606 or stacey.schewaga@usask.ca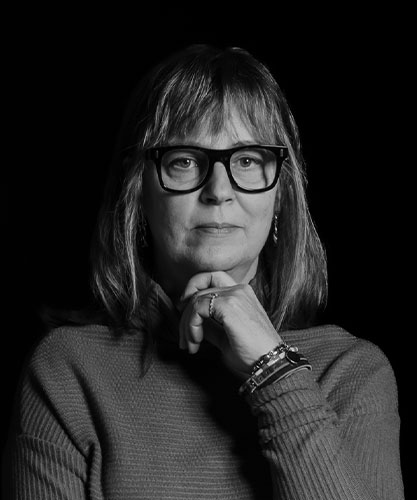 "Problem-solving roles have become more central for lawyers in today's world, and my area of research and work sits at the centre of this–focused on negotiation and communication skills, and access to justice considerations. At the College of Law we continue to work hard to help students integrate abstract understandings of the law and apply those in thoughtful and pragmatic ways–with sensitivity for the complex needs of people and the changing landscape of our justice system."
Michaela Keet (LLB'90, BA'90, LLM'05)

Professor, College of Law
IMPACT

OF GIVING TO USASK